Breast cancer treatment in Pune
Patients are clinically grouped into one of the following categories:
•  Operable Breast Cancer
•  Large Operable Breast Cancer
•  Locally Advanced Breast Cancer
•  Metastatic Breast Cancer
Operable Breast Cancer: T< 5cm, N0 or N1 mobile, M0 Large Operable Breast Cancer: T> 5cm with no skin involvement, N0 or N1, M0 Locally Advanced Breast Cancer
•  Skin involvement in the form of oedema, ulceration, infiltration, satellite nodules.
•  Matted or fixed axillary lymph nodes.
•  Ipsilateral supraclavicular/internal mammary lymph node(s).
•  Fixity to chest wall
•  Arm oedema.
•  No evidence of distant metastasis.
Clinical Examination & Investigations:
•  I. Documentation of exact extent of primary tumor and axillary node(s)
•  Pathological confirmation of diagnosis by FNAC/ Incision biopsy.
•  Bilateral film mammogram (mandatory if BCT is contemplated)
•  Routine pre-anesthetic tests including chest X-ray & LFT
• V. ER / PgR if neoadjuvant chemotherapy is planned.
Surgical Options:
•  Breast Conservative Therapy (BCT) – Wide excision with complete axillary clearance up to apex.
•  Modified Radical Mastectomy (MRM)
•  Sentinel node biopsy is presently an investigational procedure.
Contraindications to BCT:
•  Multicentric disease ( > 1 quadrant )
•  Extensive micro calcification on mammogram
•  Doubtful compliance with adjuvant radiotherapy
•  Pregnancy (1[st] / 2[nd] trimesters & precious child)
• Satisfactory cosmoses unlikely (relative contraindication)
Options for BCT for relatively large tumors:
•  Down-staging with neo-adjuvant Chemotherapy.
•  BCT with latissimus dorsi reconstruction.
Adjuvant Therapy
Systemic: Hormone-therapy and or chemotherapy
Loco-regional: Radiotherapy
Candidates for Adjuvant Systemic Therapy: All women with node-positive breast cancer and / or >1 cm tumor ER or PgR +ve ER & PgR -ve Premenopausal Chemotherapy + Hormonal therapy Chemotherapy only Postmenopausal Hormonal therapy +/- Chemotherapy Hormonal therapy + chemotherapy Ovarian ablation considered in pre-menopausal women > 40 years with ER positive tumor.
In postmenopausal women with ER-positive tumors, Tamoxifen or Anastrozole can be used. II. Adjuvant Poly chemotherapy
Candidates for Adjuvant Loco-regional Radiotherapy:
•  Breast conservation surgery: All patients should receive radiotherapy.
•  Post MRM: T >5cm, skin/chest wall involvement or axillary node metastases. In the absence of other risk factors, loco regional RT may be avoided for <4 metastatic axillary nodes if the axillary surgery was adequate. >
•  For women who receive post-op RT, the radiation target volume includes Breast/chest wall in all cases and SCF nodes when >3 axillary nodes are +ve. Dose recommended: equivalent to 45 to 50Gy / 25# / 5 wks. A tumor bed boost with electrons or 192 Iridium implant (LDR or HDR), equivalent to 10-15Gy is recommended for all BCTs.
Locally Advanced Breast Cancer
Investigations—same as for operable cancer
Treatment Plan – Multi-modal therapy :
Sequence – Neo-adjuvant chemotherapy followed by surgery followed by completion chemotherapy and then locoregional RT (plus tamoxifen if ER +ve).
Neo-adjuvant Chemotherapy
Dose schedules are same as for adjuvant chemotherapy
Clinical documentation of response at each cycle (primary tumor & nodal size) till maximum tumor shrinkage is achieved (i.e. measurements at two consecutive CT cycles is constant) or there is clinical progression (usually 2 – 6 cycles).
Surgical Treatment Options
•  If clinical and radiological (mammography) complete response, index quadrantectomy with axillary clearance (BCT).
•  If partial response with radiological evidence of residual disease, (a) BCT where feasible or (b) SMAC
•  If static disease or progressive disease, SMAC with or without reconstruction for skin cover so that post-operative radiation can be instituted early.
•  In case of disease progression locally with inoperability of disease, may consider for preoperative radiotherapy followed by reassessment for surgical excision later.
Completion of remaining cycles of Chemotherapy: (Total 6 cycles) However, if there was no response or disease progression during pre-operative chemotherapy, post operative RT is given first followed by consideration of 2nd line chemotherapy. Tamoxifen (if ER / PR +ve) for a period of 5 years. Postoperative Radiotherapy: All patients with LABC should receive RT to the breast or chest wall to a dose equivalent of 50Gy / 25# / 5 wks (or 45Gy / 20# / 4 wks).If BCT has been performed a tumor bed boost of 15 Gy in 6 fractions with appropriate electrons is recommended.
Follow-Up After Primary Treatment Of Breast Cancer
•  Bi-annual Physical Examination (PE) for 5 years followed by yearly checkup.
•  Mammography once in 18 months.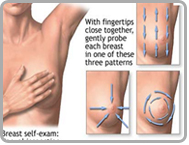 Breast Cancer Screening
•  Periodic screening by mammography results in reduction of mortality from breast cancer of about 30%, in women above the age of 50 years.
•  No convincing evidence of benefit in women <50 years.
•  Physical Examination (PE) of breast by trained personnel has a sensitivity of 75% and specificity of over 90% in detection of breast cancers and may prove to be an alternative to mammography.
•  Periodic PE of breast by trained health workers along with health education is being compared with
only health education in an ongoing NIH sponsored randomized trial.
•  Breast Self Examination (BSE) by patient may help in identifying interval cancers but there is no evidence that BSE improves survival.
Family History Of Breast Cancer
Family history of breast cancer confers a 2-3 fold increased risk of breast cancer. 5-10% of women have hereditary breast cancer where the risk is over 50 fold. Hereditary breast cancers are related to mutations in BRCA1 and BRCA2 genes. First-degree blood relatives can be tested after confirming mutation in these genes in the index cases. A negative genetic testing does not entirely eliminate the risk of breast cancer, and a positive test cannot be remedied easily or prevented from being transmitted vertically. Such patients should be referred to the cancer genetics clinic for genetic counseling and testing as appropriate.
Radiation Oncologist in Pune